⭐ Top 10 Forex Brokers? Or Not...
If you've seen Top 10 Forex Broker reviews out of 400+ available...
... you've hardly seen anything...
Let's quickly examine how true is this "TOP 10 FOREX BROKERS" statement... Then you decide!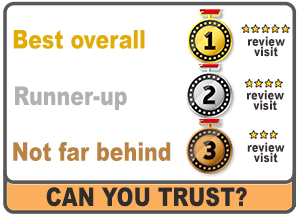 Are they PAID Top 10 reviews?
Many largest Forex brokers won't stop at anything to be on that "Top 10 List", and money won't be an issue.
Are they AFFILIATED Top 10 brokers?
Most often than not, these Top 10 Forex brokers are affiliated with the Website they're being promoted from.
Are they UP-TO-DATE Top 10 brokers?
The truth is, oftentimes, such broker comparison articles are written once and never updated again.
Lastly, are they the ONLY good option out of 400+ other Brokers?
Not only you might find that your local broker is 100 times better than the Top 10 overseas, the actual research into a larger pool of Forex brokers is often more rewarding:
you'll find some brokers being MORE flexible (staying on top of latest trends/demand)
MORE client oriented (not spoiled by client volume)
Better regulated, funded, protected etc.
just better overall!
QUESTION OF THE DAY:


Are we going to make our own Top 10 Forex Brokers list? No. We won't.

For the reasons that:
We don't publish paid reviews
We're not affiliated with any Forex brokers
We won't be attempting to compare 400+ brokers over and over again in order to update the Top 10, but we do keep all 400+ Forex brokers details up-to-date 24/7 for your easy access and comparison!
... So, don't discard the Top 10 list you've discovered elsewhere, use it to your advantage*, but we hope you've learned a thing or two about the Top 10 list pitfalls today!
* See what features are praised most in those Top 10 Forex Brokers
Copyright © Brokersome!

Read next...