Admirals Journal
Journal status:

live


Admirals

joined in

|

not yet
Registration
FCA UK, CySEC Cyprus, EFSA Estonia, FSA Seychelles, ASIC Australia, JSC Jordan
Investor protection
Fund protection
UK Financial Services Compensation Scheme (FSCS)
LPs names
Admiral Markets AS, CMC Markets UK, FXCM, Finalto, LMAX
Commission
0 $/lotRT
6 $/lotRT
Deposit methods
Bank Wire, Credit Card, Debit Card, Skrill, Klarna
Base currency
USD, EUR, CZK, PLN, RON, RUB, SEK, BRL, CLP, MXN, SGD, GBP, JPY
Inactivity fee
after 24 months
Is Admirals safe?
Investor protection: UK Financial Services Compensation Scheme (FSCS)
Regulation: FCA UK
Registration: FCA UK, CySEC Cyprus, EFSA Estonia, FSA Seychelles, ASIC Australia, JSC Jordan
Publicly traded: no
Segregated account: yes
Guaranteed Stop Loss: no
Negative Balance Protection: yes
Is Admirals trusted?
Information transparency: high

★★★★★

Customer service: prompt, helpful

★★★★★

Admirals website: highly detailed, updated

★★★★★

Admirals popularity (by visitor count): top visited

★★★★★
How Admirals works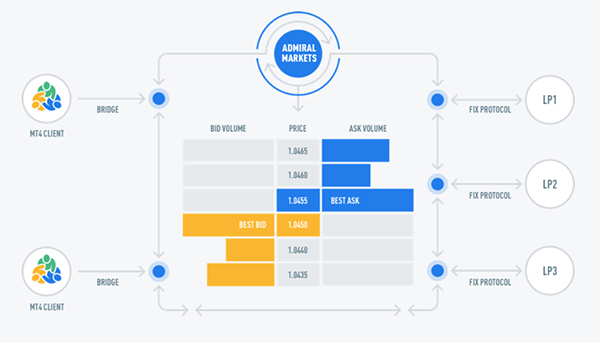 Admirals rebranded from
Admiral Markets
Deep liquidity from top-tier liquidity providers. Our system aggregates the flow from different banks and other venues into a single liquidity pool, allowing us to provide competitive spreads and deep liquidity.
Admirals Regular vs Pro accounts
Admiral Markets Pro is not an account - it is a set of trading terms and additional benefits
which can be accessed by an eligible client with any CFD account, which includes Admiral.Markets, Admiral.MT5 and Admiral.Prime accounts.
Both professional and retail clients get the same access to our trading platforms, instruments and trading tools and have the same spreads, commissions and daily financing. There is no difference in terms of any costs.
https://admiralmarkets.com/start-trading/admiral-markets-pro
Execution and LPs
Admiral Markets UK Ltd, Admiral Markets AS and Admiral Markets Cyprus Ltd are members of the Admiral Markets Group, under common ownership. Admiral Markets UK Ltd has an outsourcing agreement with Admiral Markets AS whereby it provides a number of services. Furthermore, Admiral Markets AS acts as liquidity provider to the companies under common ownership. The potential conflict of interest is mitigated by Admiral Markets AS having a number of different liquidity providers and by the monitoring of execution quality and prices offered to its clients.

In relation to each CFD transaction, Admiral Markets UK Ltd acts as principal on a matched principal basis. This means that on entering into a transaction it will enter into a back to back transaction with its liquidity provider on the same terms. As a result, a client will be dealing with Admiral Markets UK Ltd and not the underlying market. The liquidity provider may either act as a market maker in relation to the particular transaction or enter into a transaction in similar terms with another liquidity provider or a regulated market or MTF/OTF or equivalent in a non–EEA jurisdiction.
https://admiralfiles.s3.amazonaws.com/docs/UKLTD/AM%20UK%20RTS%2028%20A.pdf
25.7 We are covered by the Financial Services Compensation Scheme (FSCS). If we are unable to meet our liabilities in respect of investment business, if you make a valid claim you may be entitled to redress from the FSCS in respect of the investments that we arrange or deal in for you. This depends on the type of business and circumstances of the claim. Most types of investment business are as at the 1st October 2019 covered for 100% of the first £85,000 per person.
https://admiralmarkets.com/terms-of-business