CM Index Journal
Journal status:

live


CM Index

joined in

|

not yet
Investor protection
Fund protection
no
х
Algeria, Argentina, Armenia, Austria, Azerbaijan, Bahrain, Belarus, Belgium, Belize, Bolivia, Brazil, Bulgaria, Canada, Chile, Colombia, Comoros, Costa Rica, Croatia, Cuba, Cyprus, Czechia, Denmark, Djibouti, Dominican Republic, Ecuador, Egypt, El Salvador, Estonia, Finland, France, French Guiana, Georgia, Germany, Greece, Guatemala, Guyana, Haiti, Honduras, Hungary, Iraq, Ireland, Italy, Jordan, Kazakhstan, Kuwait, Kyrgyzstan, Latvia, Lebanon, Libya, Lithuania, Luxembourg, Malta, Mauritania, Mexico, Moldova, Morocco, Netherlands, Nicaragua, Oman, Palestine, Panama, Paraguay, Peru, Poland, Portugal, Qatar, Romania, Russia, Saudi Arabia, Slovakia, Slovenia, Somalia, South America, Spain, Sudan, Suriname, Sweden, Syria, Tajikistan, Tunisia, Turkmenistan, UAE, US, Ukraine, Uruguay, Uzbekistan, Venezuela, Yemen
Broker type
STP, DMA, ECN pricing
LPs quality
Tier-1 Banks, ECNs, Non-Banks
LPs names
BNP Paribas, Barclays, Citadel, Credit Suisse, Currenex, Euronext, FX SpotStream, Finalto, Goldman Sachs, JPMorgan, UBS, XTX Markets
Leverage
8888 : 1
200 : 1
Commission
0 $/lotRT
7 $/lotRT
Deposit methods
Bank Wire, Credit Card, Debit Card, Local Transfer, Skrill, Neteller, Tether, Bitcoin, Ethereum
Inactivity fee
after 6 months
Is CM Index safe?
Investor protection: no
Regulation: not regulated
Registration: FSA SVG
Publicly traded: no
Segregated account: yes
Guaranteed Stop Loss: no
Negative Balance Protection: yes
Is CM Index trusted?
Information transparency: high

★★★★★

Customer service: virtually non-existent

★

CM Index website: highly detailed, updated

★★★★★

CM Index popularity (by visitor count): average

★★★
How CM Index works

3.1 The Company is the Execution Venue for the execution of Clients' Orders in CFDs. So, about Client CFD transactions, the Company executes the Client Orders.


Company's price: The Company's price for a given Financial Instrument is provided from the Liquidity Provider with spread markup and/or commission charges.
https://cmindex.com/wp-content/uploads/2023/01/6.-Order-Execution-Policy-CM-Index.pdf
9.3. The Client will, unless otherwise agreed in writing, understands and acknowledges that the Company will enter into transactions with the client as Principal (counterparty) and also as an Agency(intermediary). The Company will be the contractual counterparty & intermediary to the Client. 26.1. The Client is not allowed to enter into any form of prohibited trading i.e. certain trading techniques commonly known as "arbitrage trading", "picking/ sniping" or the use of certain automated trading systems or "Expert Advisors"; 16.4. In the event that a negative balance occurs in the Client's Trading Account due to Stop Out, the Company will make a relevant adjustment of the full negative amount so as to the Client not to suffer the loss.
https://cmindex.com/wp-content/uploads/2023/01/1.-Account-Opening-Agreement-CM-Index.pdf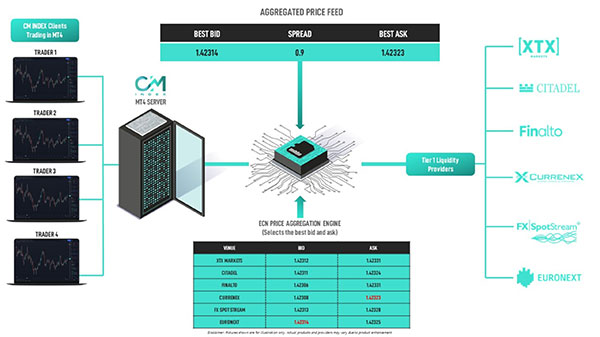 https://cmindex.com/execution-technology/