ICM Capital Journal
Journal status:

live


ICM Capital

joined in

|

not yet
Investor protection
Fund protection
UK Financial Services Compensation Scheme (FSCS), Civil Liability Insurance Programme
Restricted countries
Not serving
Broker type
MM, ECN pricing
Dealing book
A+B hybrid book
Is ICM Capital safe?
Investor protection: UK Financial Services Compensation Scheme (FSCS), Civil Liability Insurance Programme
Regulation: FCA UK
Publicly traded: no
Segregated account: yes
Guaranteed Stop Loss: no
Negative Balance Protection: yes
Is ICM Capital trusted?
Information transparency: high

★★★★★

Customer service: prompt, helpful

★★★★★

ICM Capital website: highly detailed, updated

★★★★★

ICM Capital popularity (by visitor count): low visits

★★
How ICM Capital works
8. Trading Models
ICM currently operates a hybrid model which consists of a No Dealing Desk, and a Dealing Desk acting as the market maker. To ensure that ICM is meeting its best execution obligations at all times, it will at its own discretion make decisions to either pass on to its clients the best spread prices provided by its liquidity providers (No Dealing Desk), or act as the market maker (Dealing Desk) by entering into the trade directly with the client and make its own prices.
Every market quoted by ICM Capital is derived directly from an underlying financial instrument sourced from an exchange or from a wholesale quoting counterparty (i.e. FX quoting banks). ICM Capital determines which markets to quote, the times at which those markets are quoted; ICM Capital publishes via its trading platforms those quotes (we show the aggregated price between our Liquidity Provider) at a tight spread or with a mark-up on which clients may be able to trade.
https://www.icmcapital.co.uk/static/media/1305364/order-of-execution-policy-en.pdf
ICM Direct - Institutional Trading Platform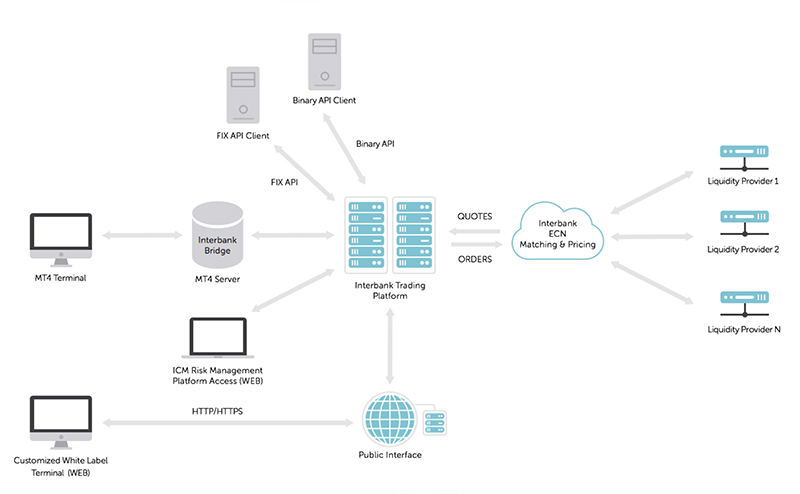 ICM Capital uses an in-house tool called 'Electronic Communication Network (ECN)' which is an automated system that matches buy and sell orders, taking into account the best possible prices and the speed of the execution. The ECN allows ICM Capital to ensure that, when executing orders, that it is achieving the best possible outcome for its clients.
https://www.icmcapital.co.uk/static/media/1586206/rts28-2018-en.pdf
All Quotes are based upon an Underlying Market that is sourced from either a recognised global exchange (LSE, NYSE, LIFFE etc) or from a wholesale counterparty (a quoting bank or market maker).
5.12 In cases of any indiscretion in trading, overleveraging, misuse of orders where "scalping" or "sniping" or "hedging" or "arbitraging" may be involved, such transactions will not be taken into consideration and will be treated as prohibited activity and may even be removed from participants accounts.
https://www.icmcapital.co.uk/static/media/1305686/icm-client-agreement-1.pdf