NPBFX Journal
Journal status:

live


NPBFX

joined in

|

not yet
Registration
FSA SVG, Financialcommission.org
Investor protection
Fund protection
Financialcommission.org
Restricted countries
Not serving
LPs quality
Tier-1 Banks, ECNs
LPs names
BNP Paribas, Bank of America, Barclays, Citibank, Currenex, Deutsche Bank, Goldman Sachs, HSBC, Hotspot, Integral, JPMorgan, RBS
Is NPBFX safe?
Investor protection: Financialcommission.org
Regulation: not regulated
Registration: FSA SVG, Financialcommission.org
Publicly traded: no
Segregated account: yes
Guaranteed Stop Loss: no
Negative Balance Protection: yes
Is NPBFX trusted?
Information transparency: high

★★★★★

Customer service: prompt, helpful

★★★★★

NPBFX website: highly detailed, updated

★★★★★

NPBFX popularity (by visitor count): average

★★★
How NPBFX works
Direct output to the interbank opened market.
The NPBFX company serving customers in the Forex market only by broker model: every customer's transaction outputs to liquidity providers (interbank foreign exchange market). Output to the interbank foreign exchange market carried out automatically by STP/NDD technology (Straight-Through Processing /Non Dealing Desk).
Each customer transaction is hedged with liquidity provider, so the company does not appear open currency position. Customer service income mainly comes from a supplement to the spreads — markup and / or the commission. The broker model eliminates the ficancial conflict of interest between the company and the client, because the company earns only from the client`s trading turnover.
https://www.npbfx.com/en/trading/stp_technology/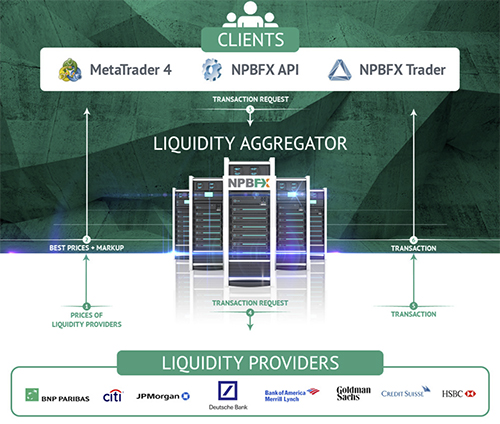 Scalping and high-frequency trading (HFT): Allowed and welcomed
https://www.npbfx.com/en/trading/account_types/