Ventezo Journal
Journal status:

live


Ventezo

joined in

|

not yet
Investor protection
Fund protection
no
х
Albania, Barbados, Botswana, Burkina Faso, Cambodia, Canada, Cayman Islands, Ghana, Jamaica, Mauritius, Morocco, Myanmar, Nicaragua, North Korea, Pakistan, Panama, Senegal, Syria, US, Uganda, Yemen, Zimbabwe
Broker type
STP, DMA, ECN-pricing
LPs names
BNP Paribas, Bank of America, Barclays, Deutsche Bank, JPMorgan, Morgan Stanley, Nomura, UBS
Leverage
1000 : 1
500 : 1
Commission
0 $/lotRT
5 $/lotRT
Deposit methods
Bank Wire, Credit Card, Debit Card, Skrill, Neteller, Perfect Money, FasaPay, Bitcoin, Ethereum, Litecoin, Tether
Is Ventezo safe?
Investor protection: no
Regulation: not regulated
Registration: FSA SVG
Publicly traded: no
Segregated account: yes
Guaranteed Stop Loss: no
Negative Balance Protection: yes
Is Ventezo trusted?
Information transparency: high

★★★★★

Customer service: prompt, helpful

★★★★★

Ventezo website: semi-detailed, updated

★★★

Ventezo popularity (by visitor count): least visited

★
How Ventezo works
3.4. It is understood that Ventezo does not execute client orders in Financial Instruments on an own account basis, as principal to principal against the client. Ventezo uses a third party as Execution Venue. Ventezo transmits Client Orders or arranges for their execution with a third party (ies) known as Straight Through Process (STP and is explained in the "Best Interest and Order Execution Policy" found on the website (https://www.ventezo.com/). In the event of lack of liquidity of the Liquidity Provider after a successful Order for the Client, Ventezo will not be in a position to settle the transaction for the Client (i.e. pay the Client the Difference of his successful trade).
11. Conflicts of Interest
11.1. When Ventezo deals with the Client, Ventezo, an associate, a relevant person or some other person connected with Ventezo may have an interest, relationship or arrangement that is material in relation to the Transaction/Order concerned or that it conflicts with the Client's interest.
https://ventezo.com/docs/Risk-Disclosure-And-Warnings-Notice.html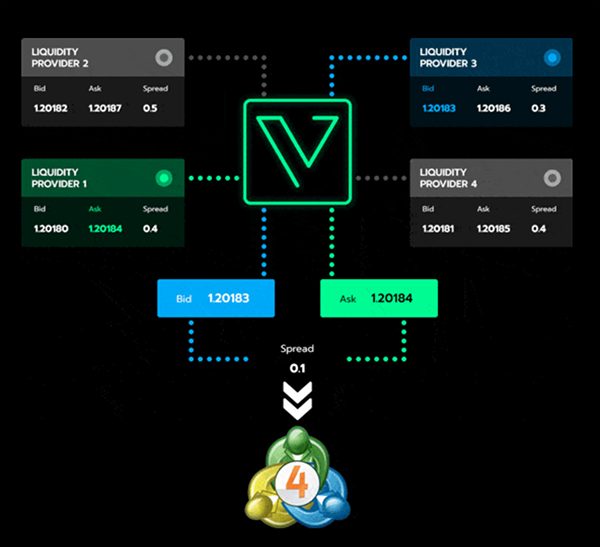 We steadily transfer 100% of orders to liquidity aggregators - the world's largest banks. For their part liquidity aggregators provide us with stable high prices and minimal rejection rate (less than 1%).
With Ventezo's DMA model, institutional traders can trade anonymously and use aggregated streaming quotes from the best market makers. We securely protect DMA trade flows from position and other high-frequency traders. Because of this, institutional traders value the Ventezo platform more than other anonymous multi-bank outlets, including ECNs.
https://www.ventezo.com/liquidity-aggregation
Our ECN Business Model
Ventezo customers get maximum liquidity, the lowest spreads and the lowest trading fees.
Institutional Grade Pricing
We strive to ensure that retail clients receive the same service and liquidity as institutional clients. That's why there are no differences for clients on the Ventezo platform. Whether you're a novice or experienced trader, you'll get spreads starting at 0.0 pips and maximum speed for order execution.
https://www.ventezo.com/about
Do you guarantee stop orders?
Being an ECN broker, Ventezo cannot guarantee filling at the requested rate. After being triggered, a pending order becomes a market one and is filled at the best available price, which primarily depends on the market conditions, available liquidity, trading pattern and volume.
Do you allow hedging/scalping/news trading?
Ventezo allows scalping, hedging and other strategies, if the orders are placed in accordance with our Customer Agreement. However please note that arbitrage trading is not allowed.
https://www.ventezo.com/faq